Celebrating Our 42nd Year
All Techs are Background Checked
We have over 2,000 5 Star Reviews
Satisfaction Guaranteed Since 1979
We Accept All Major Credit Cards
Offices in Maryland and Virginia
Lifetime Warranty on Labor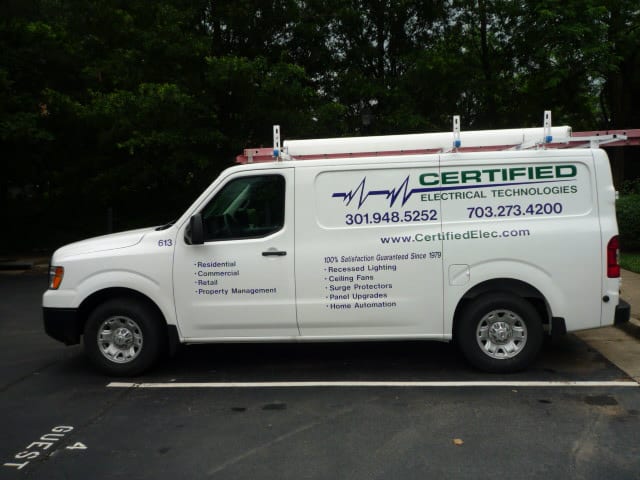 Certified Electrical Technologies (CET)
CET is a full-service electrical contracting firm serving residential, contractor, retail, real estate, and commercial clients in Suburban Maryland, Northern Virginia, and Washington, D.C. Since 1979, CET has been committed to providing the latest technology, highest quality products and superior customer service. Our goal is to provide Total Customer Satisfaction. CET offers fast, efficient scheduling, excellent service by highly-trained technicians, and competitive pricing. This strategy is what sets us apart from our competition and has made us leaders in the Electrical Service industry.
At CET we are especially proud of our outstanding staff comprised of highly trained electricians and engineers. Our staff has been personally recruited for their particular expertise, integrity and commitment to excellence. These qualities make them CET's most valuable asset and ensure our clients of total satisfaction.
Request Service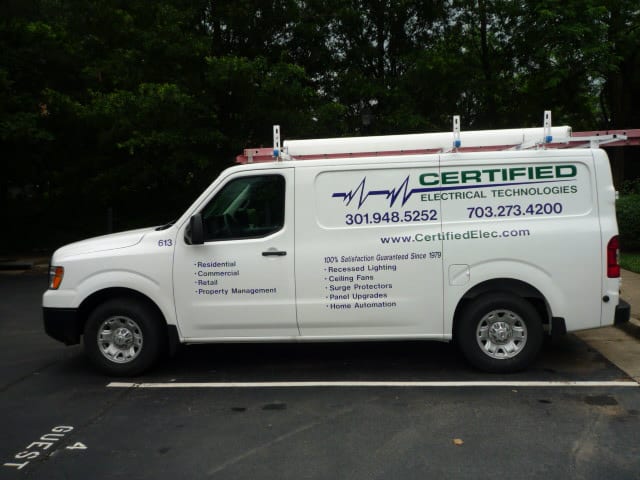 Click Here to Request Service Now

Reviews and Feedback from our valued clients!
Our goal is to provide 100% customer satisfaction and a truly superior service experience. We invite every client to provide feedback on the service that we provide and use any constructive criticism to improve our procedures. Below is just a small sample of some reviews and feedback from our valued clients. If you'd like to leave a review on Birdeye without having to log in, click the button.

Ever since a neighbor's house burned down as a result of an electrical malfunction probably caused by faulty repair work, I have been on the lookout for a dependable electrical contractor. I can finally say I have found such a contractor in CET. From the time I called them and talked to Lei to the time Jessie finished the work I felt certain I was in good hands. Jessie the technician was excellent, arriving on time, understanding what needed to be done, diagnosing the problems in depth, and finally executing the work efficiently within the estimated time. He then took the time to explain the issues, e.g. matching the switch to the correct type of LED light, when he detected some lack of understanding on my part. Thank you CET!
 called Certified Electrical Technologies first because they have a very good reputation on Angie's List. Lien was the representative that took my call. She was very open and honest about the rates I could expect. Since I had wanted same day service, CET would need to charge me emergency rates which I expected. However, she quickly understood my situation and recommended I try some other electricians in my area. If it were not for my need to get help same day, I would have gone with CET. I would recommend them based on their professionalism and honesty in addition to their great reputation. I would use them in the future.
I called and spoke to Leia to make an appointment because the main panel breaker for the pool pump/pool house subpanel had been tripped and would not reset. Leia took the time to walk me through some steps I could take to try to reset the breaker myself. I followed her recommendations at intervals and eventually I was able to reset the breaker. We really appreciate Leia's help, especially as one of their electrician would not have been available to come for the next few days. Certified Electric has come to our home to complete work on a number of occasions and their electricians are always prompt, professional and leave the work areas clean.
This company deserves, if it were possible, more than just five stars. Gary, the owner, is himself an excellent electrician, and he has chosen efficient, reliable, honest people to work for him. I have had Gary do work for me on previous occasions and I feel it is my duty to let others know that such people do actually exist today. It is indeed a pleasure to write about Gary, who is scrupulously honest, reliable, and trustworthy. Above all, he is a thorough gentleman. His is indeed a dying breed. On 11/17/20, I had a difficult situation in my rental property, with the tenant saying that an electrician was needed urgently as none of their appliances worked after a dishwasher install, and there was no power in the house. Gary sent his technician who rectified the situation efficiently and at a most reasonable charge. Such is the honesty of this company. We as consumers truly wish we had more people like him in the trade.
Vatthana from Certified Electrical Technologies arrived exactly at the time specified. He quickly diagnosed all of the issues with my home's receptacles and fixed them with seeming ease. He tested other receptacles to ensure they were working properly. He very quickly installed a smoke detector and a lighting fixture with seeming ease. Overall, Vatthana worked very expeditiously and completed all of the work much faster than I thought possible. He was so fast it felt like there was more than one technician involved even though it was only him. Vatthana was very friendly and did not hesitate to take some time to explain things to me about how the electrical systems in my house work and what the underlying root issues were. Overall, it was truly a pleasure working with Vatthana and having him in my house. I could not be more satisfied with the stellar service he provided. I was pleasantly surprised that the total cost of the work was less than I was expecting. This was my first experience using CET, and I will definitely seek their service again solely based on the exceptional service that Vatthana provided me today.