Ceiling Fan Installation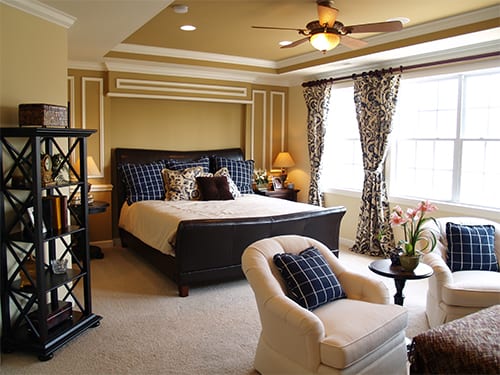 One of the easiest ways to add value and comfort to a home is with a ceiling fan installation from Certified Electrical Technologies. Our goal is to always provide 100% customer satisfaction and a truly superior service experience. When you choose CET as your preferred electrician, you can rest assured that our staff of highly trained electricians and engineers will offer the highest level of expertise, integrity, and commitment to excellence.
The Benefits of Ceiling Fan Installation
Installing a ceiling fan in any room offers a wide range of benefits that improve the overall comfort of a living space, add value to your home, and even help save on energy costs. Here at CET, we will make sure your ceiling fan not only looks great, but that it also is safely and securely installed.
Improved Climate Control in the Summer & Winter
One of the most obvious benefits of a ceiling installation is the improved temperature control and air circulation a fan is able to provide. Ceiling fans can be adjusted for both summer and winter seasons, so your home can stay comfortable all year long.
During the summer months, ceiling fans are able to improve a room's cool flow by pushing air down and around the room. While many homeowners rely heavily on their HVAC system for keeping their homes cool. During the hottest months of the year, even the most powerful of air conditioners can struggle to keep air circulated and cool – driving up energy costs and putting undue stress on the system. A ceiling fan can help circulate the cool air from the home's air conditioner and provide a more consistent, comfortable temperature without the high energy cost.
In the winter, ceiling fans can be adjusted to rotate clockwise. This rotation recycles warm air down and around the room. Just as it did in the summer, this assisted air circulation can lower the cost of regulating a home's temperature without placing too much undue stress on the HVAC system.
Add Value to Your Home
If you're looking to add to your home's value, installing ceiling fans are a simple and highly effective solution. Potential buyers recognize the benefits that ceiling fans add to a home's efficiency, while also offering a touch of improved aesthetic quality. By installing ceiling fans in your home you'll be adding comfort and aesthetics that you, and any future buyers, can enjoy.
Add to the Beauty of Your Home
There are a vast number of styles and configurations of ceiling fans to select from.
No matter what your design style may be, ceiling fans can enhance the overall look of your home. With so many different varieties and styles to choose from, ceiling fans are one of the easiest design choices to make.
Cut Back on Energy Costs
As mentioned before, ceiling fans are able to cut down on overall energy costs by improving the efficiency of a home's HVAC system. It's no surprise that people make the decision to add ceiling fans throughout their homes thanks to the benefit of faster, cooler temperatures in the summer and warmer, more comfortable air circulation in the winter. In the weeks transitioning from summer to fall, a ceiling fan can provide the perfect amount of cool without having to worry about air conditioning cost.
Whether you're in need of ceiling fan installation or any of our other residential services, you can rest assured that our team will provide the highest quality of service and expertise. Our clients choose Certified Electrical Technologies because we prioritize customer satisfaction above all else. We also offer a 10% off of labor coupon when you have our team install 2 or more ceiling fans! Schedule an appointment today with us by calling (866) 258-5252, texting us at (301) 889-8995, or by contacting us online.
Generator Panels & Connections
Recessed Lighting
Security Lighting
Service Heavy Ups
Carbon Monoxide Detectors
Service Panel Upgrades
CATV & Telephone Jacks
Home Automation
Troubleshooting & Repair
Dimmers
Flat Screen Receptacles
Check Out Our Coupons!
Our Awards