Ground Fault Circuit Interrupters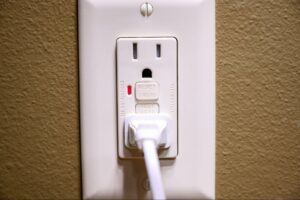 Ground fault circuit interrupters (GFCI or GFI) are designed to prevent electrocution. The goal of a GFCI is to disconnect power in an electrical circuit when a Ground Fault hazard exists. The device senses this fault and cuts off the power before someone can be injured. GFCIs are inexpensive electrical devices installed in your electrical system or built into a power cord. GFCIs can mitigate electrical burns and shock injuries in and around homes and commercial buildings. 
Locations 
Ground fault circuit interrupter receptacles and GFCI circuit breakers are in your electrical system for outlets in particularly vulnerable areas where electrical equipment is in close proximity to water. They are most commonly located in the kitchen, bathroom, laundry room, outdoors and in the garage where electric appliances and power tools are used. Portable GFCIs can provide on-the-spot ground fault protection where a GFCI is not installed in the circuit. 
The primary purpose of ground fault circuit interrupters are to protect people from electrical shock and electrocution. Because they detect ground faults, it can also prevent some electrical fires and lower the severity of other fires by interrupting the flow of electric currents in faulty circuits. 
Ground Fault
The United States Department of Labor defines a ground fault as occurring when there is a break in the low-resistance grounding path from a tool, appliance, or electrical system. The electrical current may then take an alternative path to the ground through a person's body, resulting in serious injury or death.
How Do
Ground Fault Circuit Interrupters
Work?
Ground fault circuit interrupters monitor the current moving through the circuit. When the current moves through a circuit on the current carrying conductors (wires) and the current differs by a minimal amount (as little as 0.006 amperes) in the conductors, the GFCIs power is faster than the blink of an eye to avoid a potentially lethal situation. GFCIs are designed to start working before electricity can hurt a person using the circuit. 
Types of
Ground Fault Circuit Interrupters
There are three common types of ground fault circuit interrupters. The most popular type is a GFCI receptacle or outlet. Similar to a standard wall outlet, this type is most familiar to consumers. They are recognizable since they have a Test and  Reset buttons on the face of the receptacle.  The next most common type of GFCI is a GFCI circuit breaker. GFCI circuit breakers are often used to replace standard circuit breakers and provide GFCI protection to all receptacles on the protected circuit.
Temporary or portable GFCIs are commonly used in construction and outdoor settings with electric tools, mowers, trimmers, and similar devices. They are plug-in devices that should not be a permanent alternative to a regular GFCI. Temporary GFCIs should be tested before each use.
How Should
Ground Fault Circuit Interrupters
be Tested?
Most consumers don't check their GFCIs to confirm they are working properly. GFCIs are electronic devices that can be defective or go bad over time. The electrical receptacle in GFCI may continue to be working correctly, even if the GFCI circuit no longer works. If this is the case, reach out to a qualified electrician like Certified Electrical Technologies to replace it as soon as possible. 
To ensure ground fault circuit interrupters are in working condition, they should have a monthly test by pressing the Test button on ground fault circuit interrupters to ensure that it trips or turns off.  It then can be re-energized by pressing the Reset button
Contact Certified Electrical Technologies 
Whether you need ground fault circuit interrupters receptacles or circuit breakers installed or other residential electrical services, you can be confident that CET will provide the highest qualified electricians with exceptional customer service. Our clients choose to work with us because they know we guarantee their satisfaction. Schedule an appointment today with us by calling (866) 258-5252, texting us at (301) 889-8995, or contacting us online.
Generator Panels & Connections
Recessed Lighting
Security Lighting
Carbon Monoxide Detectors
Service Panel Upgrades
CATV & Telephone Jacks
Home Automation
Troubleshooting & Repair
Dimmers
Flat Screen Receptacles
Check Out Our Coupons!
Our Awards