What is a Surge Arrester?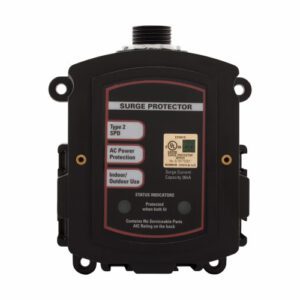 Surge arresters have many applications, from protecting a home, a utility substation, or an expensive piece of equipment.  
When either a surge or a lightning strike enters an electrical system it can damage some or all of the electrical or electronic components of that system. Electrical devices are designed to work at specific voltages and when a surge causes the voltage to be much higher than normal, damage can result. Surge Arresters are designed in a way to not allow the higher than normal voltages to enter the electrical systems.
Surge Arresters do not absorb the high voltage, but rather divert it to the ground to minimize or eliminate any damage. Surge Arresters are typically made up of Metal Oxide Varistors (MOV).  MOV's are semiconductors that sense voltage. At normal voltages, they act as insulators and do not allow current to flow.  At higher than normal voltages, they act as a conductor and allow fault current to be diverted to the ground.  
In residential situations, Surge Arresters are typically deployed to protect the electrical system either at the electrical meter or the circuit breaker panel.  These installations are designed to protect everything in a home from an electrical surge.  
In certain situations, Surge Arresters are connected to expensive or vulnerable pieces of equipment to provide additional protection.  Examples are Air Conditioning Condensers,  Pool Pumps or Filters, or Gate Controllers.   Since surges can find their way into homes in a variety of ways, there are surge arresters designed to protect the Cable TV and Telephone systems as well.   
 Protect Your Home for $295 with a Whole-House Surge Arrester
Protects all of your Appliances

Protects all of your Electronic Equipment  

Protects your Heating & Cooling System

Protects your Well, Sump, and Waste Pumps

Lifetime Product Warranty

$25,000 Connected Equipment Protection **

Lifetime Replacement Warranty

Reimburses Insurance Deductible **
Modern homes are filled with sensitive electronics. These devices are easily damaged by electrical surges that occur all day, every day. These surges are caused by a variety of sources such as utility transients, other users on the power grid, and internal sources such as motors and compressors. Constant exposure to these surges and spikes decreases the life of electronic circuits.
The cost of replacing the electronic equipment in the average U.S. home is $8000. This cost can increase dramatically with expensive computer equipment or a home theater.
Contact Us for Additional Information on Surge Arresters 
If you are interested in a surge arrester for your home or any other of our residential electrical services you can schedule an appointment today by calling us at (866) 258-5252, texting us at (301) 889-8995, or by contacting us online. We provide quality service and expertise from our team. 
** Coverage provided by the manufacturer.  See product literature for details        
** Provided space exists in circuit breaker panel & breakers are available
Generator Panels & Connections
Recessed Lighting
Security Lighting
Carbon Monoxide Detectors
Service Panel Upgrades
CATV & Telephone Jacks
Home Automation
Troubleshooting & Repair
Dimmers
Flat Screen Receptacles
Check Out Our Coupons!
Our Awards